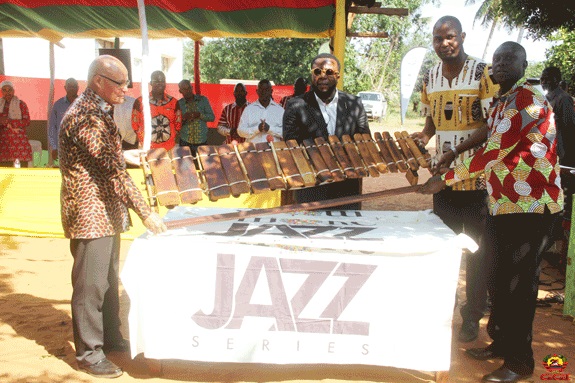 A Mozambican timbila is to become part of the collection of the International Music Museum of Cuba, with an example of this chopi instrument handed over to the Cuban government in Muane, Zavala district, Inhambane, this week.
The ceremony that took place at the home of timbila icon Venâncio Mbande, who passed away in 2015, with Raul Quinones, Cuban ambassador to Mozambique, receiving the instrument from the deceased's children in the presence of Inhambane governor Daniel Chapo and saxophonist and ethnomusicologist, Moreira Chonguiça.
The initiative to place the timbila in Havana's Museo de la Musica came from Chonguiça who discovered that our country was not represented in what is the world's largest showcase of traditional music instruments and, on his recent visit to Cuba, President Nyusi was invited to donate a musical instrument that would encapsulate Mozambique's traditional music.During the presentation, Governor Chapo acknowledged Chonguiça's role saying that the jazz musician had thereby raised even higher the name of the timbila of Zavala and indeed that of Mozambique.For Chapo, this also symbolised the internationalisation of the Festival M'saho, an event that promotes timbila and allowed it to be declared Masterpiece of the Oral and Intangible Heritage of Humanity by UNESCO in November 2005."We want this ceremony to pay well-deserved homage to master Venâncio Mbande, who in his lifetime did much to promote timbila and traditional chopi music, both inside and outside the country," said Daniel Chapo.
The governor also said that the event would strengtens Mozambique's historic relations of cooperation with Cuba in various fields of activity, including culture.
"The timbila will be exhibited at the International Music Museum in the Republic of Cuba, thus marking the presence of timbila, Inhambane and Mozambique on the world map and opening space for the preservation, internationalization and promotion of cultural tourism," said Chapo, appealing to all to preserve the Muendje tree used in the manufacture of timbila.
The Cuban ambassador said that Mozambique would take its rightful place with the arrival of the timbila in the Cuban museum."This should not be understood as the mere delivery of a timbila, but as a symbolic representation of the relations of friendship between the Mozambican and Cuban peoples," he said, adding that he felt special affection for the hospitable Mozambican people, particularly of Inhambane, and the beauty of their cultural riches.